We're not sure if you've ever heard of "The Green Smoothie Girl", but you are definitely going to want to get familiar with this lady. Her name is Robyn Openshaw-Pay and she has created a fabulous & comprehensive program called 12 Steps To Whole Foods that teaches people how to significantly improve their health by incorporating whole foods into their diets.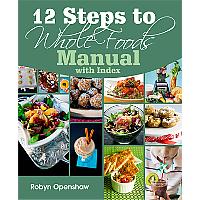 Her 12 Steps to Whole Foods Manual is as the title explains, a 12 step program in which you will incorporate one new technique and habit each month. This resource indentifies the problems that the Standard American Diet creates and gives you step by step instructions as well as over 150 recipes incorporating these techniques.
We know that you will find this an invaluable resource and go as far as to say that if you could only pick one book to dramatically improve the health of your family, THIS IS IT!
When our family incorporated her program some of the things we noticed right away were: no more irritable bowel & digestion problems, more energy and focus through out the day, clearer skin, better sleeping patterns, and our children seemed to stop catching what all the other kids were catching.
The reason she is known as the Green Smoothie Girl is because step number one in her book is to drink a green smoothie every day! Of course if you have been following our site, you would know that although sometimes these drinks are green, they do taste great and even kids will love them.
There is so much to learn and for must of us, it's hard to find the time to do all the research ourselves. That is why I love this program.  Robyn has done so much of the research for us and has compiled it into one easy to read manual.
We have found that through our own research, Robyn's program has been very consistent with other authority figures on each specific subject that she talks about and if the above information isn't reason enough to purchase her program, then let us mention that being a mother of four, Robyn understands the challenges of creating food that children will eat and love.  In fact, she was able to cure her son of severe asthma that developed shortly after birth, which doctors said would require high levels of steroids through out his life, just by diet alone. He is now a tall, healthy and highly athletic young man who continues to thrive without a single dose of steroids each day.
If you are interested in learning more about Robyn's "12 Step Program to Whole Foods", you can  CLICK HERE. Additionally, you can find Robyn's best selling book "The Green Smoothies Diet" by CLICKING HERE.
If you like what you find, please be sure to come back and leave us a message.  We look forward to hearing from you.